We specialize in appraising, buying, and selling entire fine estates from:
Probate Attorneys
Bank Trust Officers
Estate Liquidators
Guardianship Representatives
Retail Stores
Charitable Organizations
Non-Profit Organizations
Private Sellers
Divorce Attorneys
Features:
Some of the highest prices paid with instant payment
Two way insured priority overnight shipping
Access to local, national, and international markets
Additional references upon request
What we buy:
Antique/Fine Jewelry
Diamonds & Gemstones
Fine Watches, Rare Coins
Platinum, Gold, & Silver
Paintings & Collectibles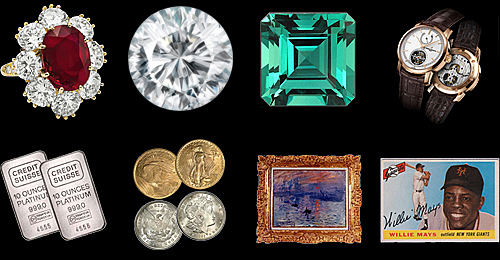 Procedures:
For an initial free consultation, please contact us.
You will be asked to provide detailed descriptions, valuations and photos if available.
Based upon the data provided and your location, an appointment will be made for an initial visit.
Assuming that your estate items are what we are seeking, we will provide appropriate experts and offers.
We will provide safe fully insured overnight priority shipping to us and back to your location if required.
If our bids are accepted, bank check or cash will be paid and items will be transferred quickly and professionally.