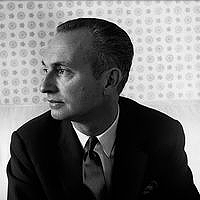 One of the twentieth century's most gifted artists, Jean Schlumberger created fantastic designs that transformed nature's wonders into objects of mesmerizing beauty. With gold and dazzling gemstones as his palette, he captured the glory of flowers, exotic birds and mythical creatures in bejeweled statements unrivaled in the world of jewelry design.
Though cast in stones and precious metals, Schlumberger's is a world of energy and movement. Jellyfish with sapphire tentacles and jeweled dolphins undulate with the rhythms of the sea; glittering petals and leaves are stirred by gentle breezes. "I try to make everything look as if it were growing, uneven, organic," he once said. "I want to capture the irregularity of the universe."
In 1956 Walter Hoving, chairman of Tiffany & Co., asked Schlumberger and Bongard to join the company as vice presidents. A special design studio and salon were decorated to the designer's specifications. With an unlimited supply of the finest colored stones now at his fingertips, Schlumberger created some of the most fabulous jewelry designs of his career. He is one of only four people Tiffany & Co. has ever allowed to sign their work.
A great innovator, Schlumberger brought back the 19th century art of paillonné enamel, a process of achieving translucent colors by laying enamel over 18k gold leaf. His magnificent enamel bracelets, in vivid red, blue and green spiked with gold, became the signature accessory of every stylish woman's wardrobe. Jacqueline Kennedy was so often photographed wearing the enamel bracelets, the press called them "Jackie bracelets."