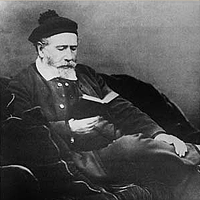 Founded in Paris in 1847, by Louis-Francois Cartier, the firm known as Cartier quickly became recognized for its exemplary workmanship and taste. Louis-Francois Cartier began his esteemed career at 28, after an apprenticeship with master watchmaker Adolphe Picard resulted in Cartier taking over the master's workshop, 29 rue Montorgueil, Paris. He expanded the premises, and built his reputation on knowing how to satisfy the most extravagant of desires. By 1853 Louis Francois was able to move his business to the more fashionable Palais-Royal district at 5 Rue Neuve des petits Champs. He became a favorite of Princess Mathilde, the cousin of Napoleon III, whose patronage opened the door to Parisian society.
In 1874 Alfred Cartier took over the company from his father Louis Francois. In 1898 the Cartier firm made a final move in Paris and they still remain at 13 Rue de La Paix, in the heart of Parisian elegance and luxury. Alfred Cartier entrusted his three sons to manage the Maison de Cartier
Among Louis Cartier's most important and lasting innovations was introducing the combination of platinum and diamonds to create garland style jewelry. Cartier wove the platinum into extremely fine threads in order to bring out the sparkle of the diamonds, making platinum a legitimate and irreplaceable precious metal in jewelry making.
In 1904, Brazilian aviator Alberto Santos-Dumont, asked close friend Louis Cartier to design a watch that could be used during his flights, since pocket watches were not suitable. Louis Cartier created for him the Santos wristwatch, the first wrist watch made for men. The Santos first went on sale in 1911, the date of Cartier's first production of wristwatches.