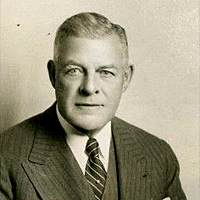 Using only the highest quality gemstones and the most exquisite platinum mountings, Raymond Yard (Founded 1922) designed jewelry that not only took on an identifiable style of its own, but also elevated Art Deco jewelry to a new level. Raymond C. Yard differentiated itself from other jewelers in the art of rebuilding jewelry with its exquisite 20's and 30's art deco pieces. Today, the name Yard is synonymous for the highest standards in fine jewelry.
His formal, traditional designs depended upon the best stones in perfectly balanced combinations of cuts and sizes. Known for mixing gems with different styles of cutting, Yard began to design jewelry using round brilliants with straight baguettes. Once established, he expanded that with shields, trapezoids, etc., to give his pieces not only a special appearance, but creating shimmer. Along with creating new original pieces, Yard was also known for reincorporating old pieces of jewelry into re-designed pieces. A stunning bracelet was made for Joan Crawford using previous jewelry gifts including a Yard bracelet and earrings set and an engagement ring from husband Douglas Fairbanks.
The legacy of Yard was passed on to Robert Gibson in 1958, Yard's protégé. The two meet in 1937 at the Winged Foot Golf club, where Gibson was a 17-year-old caddy. Just as Yard had risen through the ranks of Marcus & Co. learning all aspects of the industry, so too did Gibson, who became President of the company upon Yard's retirement. Gibson retired in 1989 after a successful career of continuing the Yard legacy. Bob Gibson, son of Robert, became President and brought success to the company by reviving many of Yard's most successful designs of the past and maintaining the high quality of gemstones and craftsmanship that have defined the Yard name.